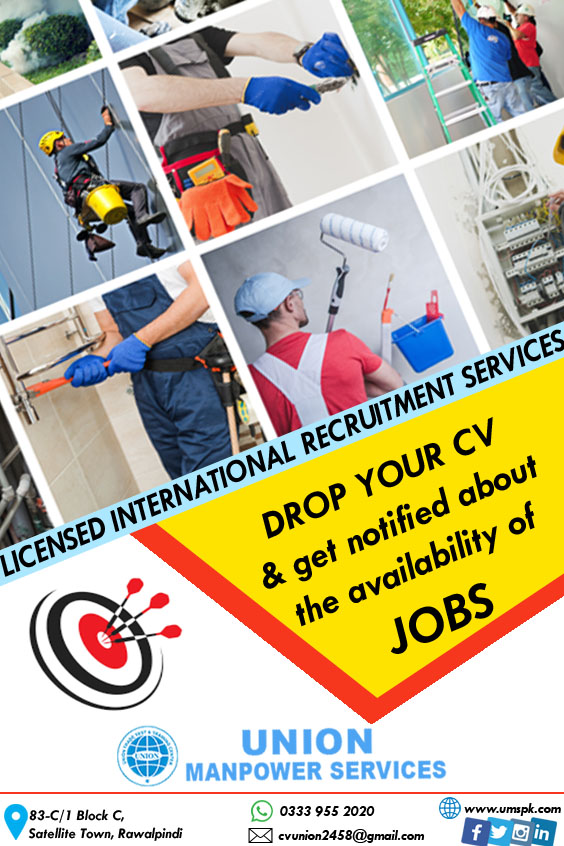 Union Manpower Services is the best manpower recruiting company. We supply unskilled, semiskilled, highly technical and professional manpower. Our network deals in different countries. Moreover, the databank of company has a large number of workers in most of the major trades. UMS functions as a bridge to manpower importing nations around the globe. Our proven success based on the experience spread.
Highly Qualified and Experienced Recruitment Staff
Our Recruitment Team comprises of highly qualified and well-trained professionals. Our leaders have more than 15 years extensive experience. This includes the recruitment and deployment in various categories:
Skilled Workers. (certified welders-TIG, SMAW, SAW, FCAW, etc. Carpenters, Steel Fitters & Fixers, Masons, Plumbers, Electricians, drivers, operators etc.)
Semi-skilled Workers.
Unskilled Workers.
UMS is recognized by Overseas Employers through a successful business partnership. We have been working for more than 15 years now. This clearly demonstrates our quality of service and reputation.
INFRASTRUCTURE
Our office is located in Rawalpindi. Our office has 4000 sq. ft. of area. The team consists of more than 33 Team members.
We also improve the working skills of our general workers. It includes from Un-Skilled to Semi-Skilled as well as to skilled workers. For this, we have Union Trade Test and Training Centre. The centers are situated in big cities of Pakistan. These centers are located in Rawalpindi, Faisalabad, Toba Tek Singh, Shakargarh & Layyah. We have huge number of workers from all categories in our data bank for immediate placement. Therefore, this enables us to meet the exact needs within the desired time frame.
UNION Manpower is a supplier of skilled labor and professional staff
Our deployed staff have been known for their adaptability, perseverance, & smooth interpersonal relations. First of all, we ensure that before their deployment. They attend briefings as well as seminars that would prepare them psychologically & emotionally. Furthermore, it boosts their morale, & productivity. Moreover, we also require some of our candidates to undergo further training to review & upgrade their current skills.
Get daily updates on our Facebook page: www.facebook.com/umspk
For more information, never hesitate to contact us:
Address: 83-C/1,C-Block Satellite Town Rawalpindi
Phone: +92 51-4851287, +92 51-4851288
Cell: +92 333 9552020
International
Contact No: +966 56 4237204, +974 30500864
Email: union_2458@yahoo.com, info@umspk.com
Skype: union_2458
Website: www.umspk.com