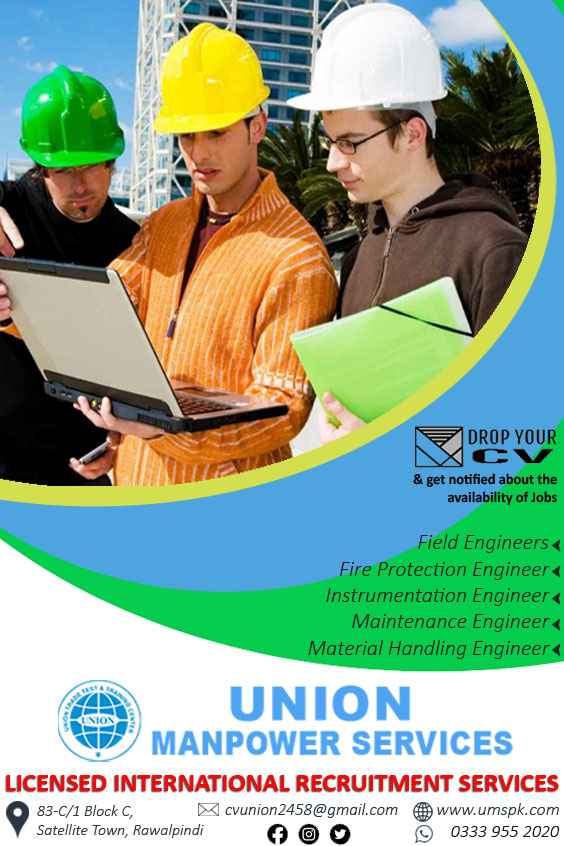 Welcome to the Pakistan's TOP Rated and number 1 Overseas Recruitment agency.
UMSPK, is an overseas recruitment company. Whether you are a jobseeker or employer, union manpower services, will always be your number 1 choice to headhunt. We aim to connect right people to the right jobs.
Being one of the prominent Overseas Recruitment Agencies in Pakistan for Gulf, Saudi Arabia, UAE, Qatar, Malaysia, Oman, and Romania. We're Asia's leading overseas recruitment agency having an extensive footmark across the Gulf region. Thus, filling the force gaps efficiently in Saudi Arabia, United Arab Emirates, Bahrain, Oman, Kuwait, and Qatar. We've our name associated with some of the region's largest and most prestigious companies, furnishing them with quality mortal resources.
Union Manpower Services works with many trades. So, there is a great chance for manpower to get a job in Saudia Arabia if you apply through UMS. Our process is simple, short and easy. Anyone can easily start the process. Firstly, any person having interest in working abroad, has to just submit the resume/CV via post, email or by-hand. After that, we will contact the shortlisted candidates according to the demand of manpower.
Moreover, there is always new opportunities around the world. Therefore, get a good chance for yourself. Check our daily updates on facebook.
For more information, never hesitate to contact us:

Address: 83-C/1,C-Block Satellite Town Rawalpindi.

Phone: +92 51-4851287, +92 51-4851288.

Cell: +92 333 9552020

International
Contact No: +966 56 4237204, +974 30500864

Email: union_2458@yahoo.com, info@umspk.com
Skype: union_2458

Website: www.umspk.com